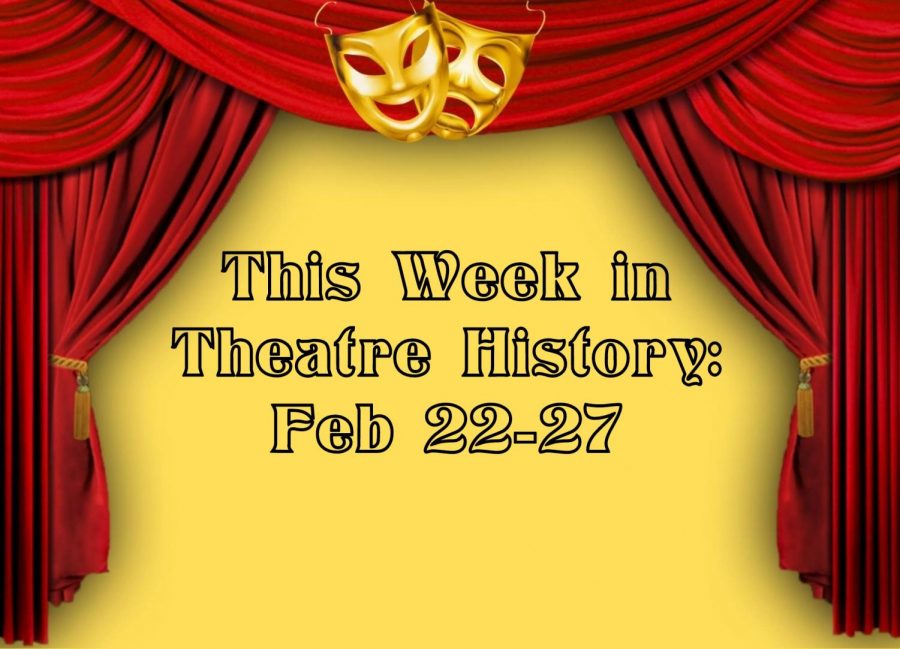 For this starring week in theatre history from February 22 to February 27 includes events such as a London revival of a beloved dark comedy, the opening of a famous Broadway flop, and the birthday of an awarding winning Broadway costume designer.
Beginning on February 22, 1983, the famous Broadway flop "Moose Murders" by Arthur Bicknell opens and closes the same night. The play follows the Holloway family arriving at the Wild Moose Lodge subsequently getting trapped in a storm and playing a murder mystery game. Reviews poured in with a flurry of harsh reviews locking the show as the standard for all future Broadway failures to be judged. The show has occasionally received revivals in community theaters and notably ran for two weeks at the Off-Off Broadway Connelly Theater.
 Years before on February 23, 1966, a revival of "Arsenic and Old Lace" by Joseph Kesselring opened at London's Vaudeville Theatre. The show starred Sybil Thorndike, Athene Seyler, and Julia Lockwood. "Arsenic and Old Lace" is an exaggerated black comedy that tells the tale of the Brewster Family, mostly composed of maniacs. This show was Sybil Thorndike's farewell appearance with her husband as she shortly left her acting career. The show ran from 23rd February to 12th November 1966.
Even earlier on February 24, 1925, was the birthday of famed Broadway costume designer Patricia Zipprodt. She was well known for her techniques of fabric painting and dedication to accurate period based costuming. She costumed for shows such as "Into the Woods", "1776", and "Pippin". She also was praised for creating exact costume renditions of John Tenniel drawings from the original "Alice in Wonderland" novel. She's been nominated for 21 awards and won 10 of those and Zipprodt has been inducted into the American Theater Hall of Fame.
Next on February 25, 1969, the play "Does a Tiger Wear a Necktie?" by Don Petersen opened on Broadway at the Belasco Theatre. The play is a racially charged drama concerning teen drug addicts at a rehabilitation center and the impact an English teacher has on his students. The play acted more as a documentary allowing the audience to make their own conclusions. "Does a Tiger Wear a Necktie?" helped launch the careers of actors Al Pacino and Ron Thompson.
On February 26, 1911 the Columbia Theatre opened its doors in Chicago. The venue was designed by architect John E. O. Pridmore with around 1500 seats. The theater's name was changed to the Adelphi in 1923. Later in 1931, the theatre was changed to a moviehouse and given another name, the Clark Theatre. The theatre lay close to the Blue Note Jazz club that held stars such as Ella Fitzgerald and Louis Armstrong. The Clark Theatre operated until 1974 where it and the rest of the building on the block were demolished.
Last but not least on February 27, 2007, Jay Harnick passed away in Manhattan after a long illness at 78. Harnick was best known for founding TheatreWorks USA with Charles Hull. TheatreWorks USA is the USA's largest touring children's company. The company has taken talents from Jason Robert Brown to Robert Lopez to provide theatre to young audiences. Harnick started out as an actor but also worked as a stage manager, producer, and director to show his personal talents of theatre.