The influential importance of "The Office"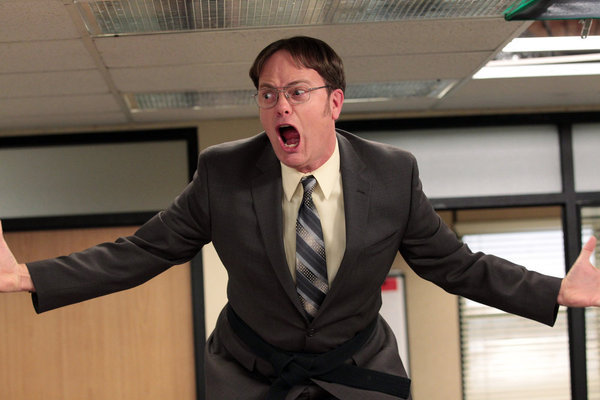 Hang on for a minute...we're trying to find some more stories you might like.
It's usually a stretch to state that something as simple as a TV show can stand as a foundation of someone's moral values and sense of realism.
    It's not impossible, however, to be correct in such an assumption that you can learn anything of value from experiencing a several-season-long make-believe story about non-existent characters based in a city that you wouldn't find on your GPS. That's why influential TV shows have such a powerful grasp on the way we live.
    Pondering over daily, frustrating situations seems to be the only recognizable part of our lives. Decisions impacting high school students, such as our "promising" futures and unknown fates, cause a nauseating sense of uncertainty in our lives.  In unbearingly frequent times like these, we tend to resort a destination that strands us a little farther away from the freezing reality of our stresses. A false sense of security and contentment might cause nostalgia in high schoolers, for it can remind us of a time where we didn't have to worry about the problems we face, simply because they didn't exist.
     This destination is a frequent occurrence in binge-watching, an increasingly popular side hobby involving spending hours upon hours watching a series of shows, movies or any other type of media that is involved with the sense of vision. This is where the illustrious scene is set for the discovery of a brilliant TV show, a show that offers that foundation of moral values and one that gives you the sense of realism that you need but aren't taught in school. The addictive binge-watching habit finally pays off as the theatrical curtains are finally pulled back on one of America's most creative and joyous sitcoms to date.
    Ladies and gentlemen, I'm talking about The Office.
    In a nutshell, The Office is an American sitcom exposing the comedy, drama, romance, etc. that occurs in a Pennsylvania-based paper company branch. If it sounds boring, that's part of the point of the show, and we'll discuss that later on in the article.
    So how does this seemingly boring TV show benefit the viewer?
    It can be argued what forms the backbone behind any accomplished show. The crucial variable applied to the formula that produces The Office's charisma and charm is the characters. The talent of Greg Daniels (executive producer, main developer, original showrunner) has becomes quickly evident as the story builds throughout the seasons. For example, average working employee and semi-protagonist, Jim Halpert, forms relationships in a quirky, fascinating way and shows his noticeable growth as a character as he faces challenges and frustrating life decisions as the show progresses. His personality brilliantly contrasts with that of Mr. Dwight Schrute, a strict, no-nonsense employee whose conflicts often serve as the sitcom's main punchline.
    These two opposite sides of The Office's coin draw multiple similarities with everyday life, which the viewer recognizes, thus relating to the show. This isn't all too unique compared to other sitcoms, since relating to the general public isn't exactly a challenge. Where this show shines is in its sense of realism and its ability to accumulate subtle and clever jokes in a noticeably boring office setting. This differs from other popular sitcoms such as Friends or The Big Bang Theory, where the setting always seems to be a place of excitement, like a busy New York Cafe (Friends), or an apartment shared by five people in Pasadena, California (Big Bang Theory). The Office also shines in raw humor, relying only on its jokes, not laugh tracks, to entertain the viewer.
    Without spoiling the show, The Office's message to its viewers is a message of understanding and making the best of an unfavorable situation. It's taking an  scenario you wouldn't find yourself in and immersing yourself alongside your friends and your job to feel fulfilled and content with your life. In the first season, our normally goofy semi-protagonist, Jim Halpert, would show his worry and his fear of spending the rest of his life working at a paper company, but at the end of the show his growth is so vibrantly visible that the viewer can't help but express happiness for this make-believe character. A man once afraid of spending his future selling paper is now at peace with his job and wouldn't want to be anywhere else; it's not something that the viewer can necessarily relate to, but it's something that they also want to experience. The show is also on the more realistic side of popular sitcoms; a boring job in a small branch of a paper company seems a lot more realistic than six friends all living near each other in an amazing apartment in New York. There's also a reason to this; it shines a light on the lives endured in realistic positions, expresses a (at first glance) depressing glimpse at the real world, yet shows excitement and comedic experiences in places where even the viewer can't imagine.
Dullness and mundane situations are a cornerstone in our daily dances with life, and they seem to increasingly get more severe and frequent as we progress into our later years. It's shows like The Office that relate to its older audience, yet prepare its younger audiences for what they're most likely going to experience instead of the realistic faux pas created by other popular sitcoms that fail to address real life situations in unrealistic scenarios.