The Clowns Are Back!!
POSTED October 26, 2020
White makeup, a rainbow afro, a red nose, and creepy gloves- this is a look for the circus not a look for hiding behind trees.  Yet, this seems to be one more thing to add to this year's crazy events happening all around the world.
From 2016 to 2020, all around the world, creepy clowns came out of nowhere to try and either scare people off the road or to reel them into a trap.   When people start writing news articles or they record these clowns, more clowns start to come and join in.  These clowns have been nicknamed the "Killer Clowns."
The clowns would lure young boys and girls into the woods and scare them.  As a young girl or boy, they don't understand what they're doing wrong at a time like that.  It's very easy for a random person to come up to you and say "I'm a friend of the family" or "it's okay, your mom sent me to come to get you."  When the clowns first began to come out everyone was scared they were going to get lured into a trap.  In several states the police made it clear that if you were dressed up as a clown for Halloween you would get arrested.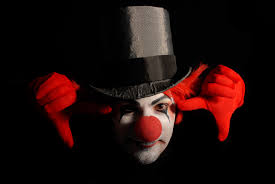 On October 31, 2016, a whole bunch of clowns thought it would be a great idea to scare people even though everyone was already on edge.  After Halloween, everything seemed to fade away until 2020 came around, and the sightings started again.  Nobody knows how to react because it's been four years since the clown situation has been talked about.  Also, with the clowns coming back around Halloween everyone thinks it will be like last time and they will leave after Halloween night.
As of today, the clowns are still being sighted and nobody quite knows how to react because they have only been around for three months.  The clowns are mostly seen on gravel roads or in corn fields where they can try and scare people off the road.  Whenever people see a sighting their first instinct is to pull their phone out.  Good luck clowns, 2020 has been a bad year and it would be very hard to argue that it hasn't.  Feel free to get in line after natural disasters, politics, and Covid-19.