Online Dating, is it Right for You?
POSTED November 24, 2020
In the world today, social media and cell phones have progressed our daily lives, leisure time and even our dating lives and they have become a big resource. They have taken over the way people communicate and connect with each other. Millions of people have either already dated online or are currently. According to Kaspersky Daily, as many as one-in-three people are dating online already and around 48% of adults between ages 18-29 years old use online dating the most. 48% of both male and females join online dating apps and environments because they simply want to have fun and meet new people. Here are some primary questions that should be asked and answered for the progression of online dating.
Is Online Dating the New Normal?
Online dating can almost feel like shopping, when swiping from left to right on users profile pictures, it can take up a lot of your time and it can become a habit. Some say that it feels like you're hiding behind a screen or phone, because you basically are. Yet a lot of people have taken their online dating further and have met the person or people they have talked to. This can be a relief in a way, with getting to find out if the person is real in the first place and then getting to connect with them on a different level that wouldn't be able to happen over the phone. Society can get so wrapped up in their daily lives that it can be hard to slow down and find someone that they genuinely want to meet and spend time with. So, that's where social media and online meeting and dating can come in handy. 
There are many things to think about when you are dating online. Some are good, some are bad, but you may never know if it's really right for you until you try it. 
What are the Pros?
Choose your preference/variety

Skip the in person awkwardness for a while

Less embarrassment

Easy access 

Able to get to know them more before meeting for the first time
What are the Cons?
Online communication

You become picky/frustrated

The chemistry may take longer

Fake identities 
Online dating can take your emotions on a rollercoaster that you've never been on, from jealousy, headaches, joy, sadness, impatience, love, heartbreak, and everything else. Younger generations have especially adapted to this way of dating and it has had its advantages and disadvantages. For some, they want to meet face-to-face with the person or people they have matched with, yet others do not. 
What are the Top Apps?
The top primary dating apps that are the most popular in 2020 are Tinder, Bumble, and OkCupid. There are about 32.2 million users as of 2020, and these numbers are predicted to continue to grow in the next few years. 
According to Kochava Collective, Tinder has the highest number of users. If you want the most options available, this one is the way to go. Tinders applicants can anonymously swipe left or right on another person's profile just by their picture, a small bio and a common interest, and once the two have "matched" they can begin talking. This situation can be a good and bad one, as where it can turn into an addiction but also a real way for someone to find a person of their interest. If one does not respond nothing really happens and it's in your best interest to move on and find another match.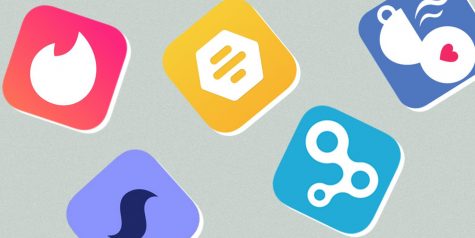 Bumble is similar to Tinder, you can swipe left or right, but Bumble only allows females to make the first move and she has to send the first message. If the female does not send a text in the first 24 hours, the "match" will expire.
OkCupid will give you a series of questions to better place you with people you have the same interests in and can match with people better. It's very similar to Tinder and Bumble, two people have to like each other before they can begin talking. 
Is Online Dating Safe?
People tend to share their personal information faster and easier with online dating, and while lying is a number one rule that people don't want in a relationship, 57% of online users lie to each other. It can be very difficult to know if you can trust the other person, especially with meeting them online. So if you really like your match, want to get to know them better, and to make sure they are not lying, would be to meet them in person. That way you can get a better connection with them and possibly continue to see them. According to kaspersky Daily, statistically more females give their information first and shortly after they have just met the other person. There are many safety factors and risks when dating online, such as sex offenders, scammers, stocking, harassment, potential thefts and many other things. Although, there are very good websites and apps that are safe and will protect you at all costs. Safety should be your top priority with online dating. 
Overall, it's all in your hands whether you take on online dating to reach your own personal end goal and use it to your benefits, but remember to be cautious and think about the pros and cons of why you're using the apps and wanting to find someone online in the first place.