Inauguration 2021 and Beyond
POSTED January 27, 2021
 "America has been tested, and we've come out stronger for it. We will repair our alliances and engage with the world once again." – Biden
Inauguration 
Inauguration day was January 20th, 2021, the day where office is turned over to a new president. Joe Biden and Kamala Harris were sworn in and took their oaths as President and Vice President, respectively.
 The Inauguration was a bit different because of COVID-19. It was streamed on Twitter, and it was also live streamed by the Presidential Inaugural Committee, and by the New York Times. 
People that were there in person include George W. Bush and Laura Bush, Barack Obama and Michelle Obama, and Bill Clinton and Hillary Clinton.
Special performances there include Lady Gaga singing the national anthem and Jenifer Lopez giving a performance. This inauguration was a little different because Donald Trump was not there but Mike Pence was there. Instead of the regular ceremony there was a television event at 8:30pm and that was hosted by Tom Hanks and featured celebrities such as Justin Timberlake, Demi Lovato, Ant Clemons, and Jon Bon Jovi. On Friday they also had additional guests such as Foo Fighters, John Legend, and Bruce Springsteen. All in all, this inauguration was a ginormous deal and it will be an event to remember. 
 "Today, we mark the swearing-in of the first woman in American history elected to national office – Vice President Kamala Harris.   Don't tell me things can't change."- Biden
Bio on Joe Biden
Joseph R Biden is nothing new to the public eye, as he ran for president three different times. Born on November 20, 1942, Biden grew up in Scranton, Pennsylvania. While growing up he was often bullied for having a stutter. As he supports the Democratic Party this is not his first time being a part of office.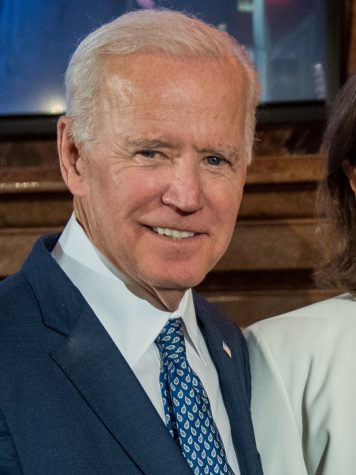 He was Barack Obama's Vice President for two terms, but his first time elected into the office was in 1972. He has been a part of the public eye for nearly half a century, serving the United States Senate for 36 years.
Joseph Biden worked as an attorney before he got into politics. He was the fifth youngest senator, as well as Delaware's longest serving senator. His first attempt to be president in 1988 was unsuccessful. Later he ran again but had no kick off, until Barack Obama elected him as the vice president for both of the terms Barack Obama served. During the close of his administration in 2017 Obama awarded Biden with the Presidential Medal of Freedom.
During his first attempt at running for President he dealt with a horrible tragedy. His wife, and three children were in a fatal car accident. The car accident killed his wife and his daughter (Naomi) while severely injuring his sons( Beau, and Hunter). After that he was in a very dark place and even considered suicide. Later he remarried to his second wife Jill Biden in 1977, and had a daughter together, Ashley Biden. The second marriage helped Biden with the grief and heartbreak to become the 46th President of the United States
Bio on Kamala Harris 
Kamala Harris was born in Oakland California on October 20, 1964. She grew up with her father Donald Harris and mother Shyamala Gopalan. Kamala was the oldest of two, her younger sister Maya Harris was born three years after. Kamala and Maya were raised by their mother for most of their childhood. When Kamala was just 7 years old her parents got a divorce, and said they became like "oil and water" according to biography.com.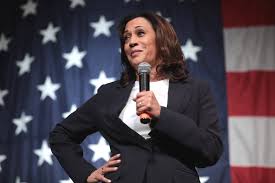 Kamala attended Hastings college and earned a law degree in 1989, around 1990-98 Kamala served as a deputy district attorney. She prosecuted cases over gang violence, sexual abuse and drug trafficking, Harris soon became a strong leader and had a reputation for toughness. Kamala first took office in 2017, and she began by serving on both the Select Committee on Intelligence and the Judiciary Committee. Harris began to become very successful and decided to seek the Democratic Presidential nomination in 2020.  Harris and Biden were rivals before they started a partnership, she ran for president in the 2020 election and dropped out of the race in December 2019.  Her career as an attorney general and senator made her an obvious choice for Biden's vice president. 
Harris has become a big role model to society today; she has broken so many boundaries and is now even the first female, and first black and south asian vice president. Harris has had a big role in fighting for equal rights, this gave her a strong platform for citizens today.
"We come together as one nation, under God, indivisible, to carry out the peaceful transfer of power, as we have for more than two centuries." -Biden
Education
Education is not only an important factor to Joe Biden but also to his wife, Jill Biden who has a doctorate degree and is a college professor. 
Biden has a lot in store for him for the education pathway and here are a few plans he has for students:
Invest in community colleges and training to improve student success

Make public colleges and universities tuition-free for all families with income below $125,000. 

Plan to have more practical classes to be taught in high school

Aim to relax repayment requirements and improve existing loan forgiveness programs

Use education funding for having universal pre-K to 3 and 4 year olds, and give all high schoolers access to practical and rigorous coursework, including both shop classes and Advanced placement classes. 

Increase funding for special needs

Diversify schools

Allow Pell grants for college credit classes taken by high school students

Give early childhood development support

Increase funding for Pre-K programs
Most of what Biden is wanting to accomplish is going to be a state by state move and by helping every grade from pre-K through 12 and college.
Health Care/COVID and the Future
The Biden-Harris Administration has inherited a major health crisis with many negative effects.  In 2019 a deadly virus started in China, spread globally and ravaged the United States.   In the Health Care and Covid system, they are having most people get the vaccine if they want it.   Biden is trying his hardest to get this virus to go away as fast as possible and to be more proactive than Trump.
Most people have been traveling by car instead of going on planes or trains due to the virus.  Due to the mask mandate, masks are now mandatory in every building that you go into but some people don't follow this rule.  As of today and so on many people have lost their jobs and income due to this pandemic, so either most people are working from home or they can't work at all.  Many people either have claustrophobia or people have disorders that keep them from wearing a mask.
First 100 Days
In the first few days, Biden has issued Executive Orders.
His three main goals are to:
Control the Pandemic

Restore the Nation's Reputation

Fix our Divided Nation
A few things he has done so far:
Rejoined the Paris Climate Agreement

Cancelled permits for the Keystone Pipeline

Paused student loan payments

Stopped the construction of new border security

Announced new orders that expands Covid-19 testing

Froze all last minute regulatory actions

Issued a mask mandate
 He still wants to accomplish:
Sending a new bill to congress that can help out almost 11 million immigrants achieve citizenship.

Pushing the

Equality Act

which will build more rights for the lgbtq+ community.

Ending loopholes in background checks for buying a gun to be demolished.

Repealing a huge corporate tax cut. 

Reforming Criminal Justice.