Tiger Woods's car crash
POSTED March 9, 2021
On February 23 around 10:12 AM professional golfer Tiger Woods was almost killed in a severe car crash. Woods was driving to a photoshoot with Justin Herbert and Drew Brees for Gold Digest and GOLF TV. While Woods was on his way to the photoshoot he hit a curb and rolled multiple times into a bush that caused him to break both of his legs.
After the crash one of the people that live nearby where the accident took place called 911 immediately and rushed to help. Once Woods was taken out of the car he was rushed to Harbor-UCLA Medical Center but soon after the surgery, he was moved to Cedars-Sinai Medical Center to continue orthopedic care on his legs and back.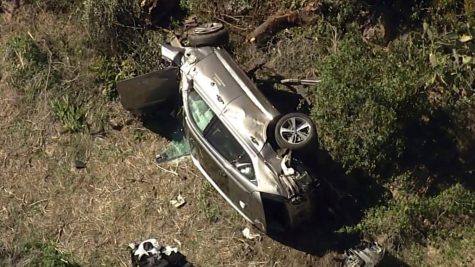 This car crash could be the end of Tiger Woods's golfing career. He's already 45 years old while the average of all of his competitors is only 35 years and the average retirement age is only 50 years old. In addition, his career was already close to being over with his already present back injuries and 5 back surgeries.
Despite all of that though Woods has persevered through other hardships like his car crash in 2009. Woods was in another serious car crash where he ran into a fire hydrant without a seatbelt, when the car collided with the fire hydrant he got facial lacerations and 3,200 dollars of damage to the fire hydrant and the car.
Things have been starting to look up for Woods though because on March 1st Woods broke the silence 7 days after the February 23rd crash by Tweeting "It is hard to explain how touching today was when I turned on the tv and saw all the red shirts. To every golfer and every fan, you are truly helping me get through this tough time." To help support Woods some of the golfers and fans have been wearing his signature red shirt and black pants