The infamous John Dillinger
POSTED September 28, 2022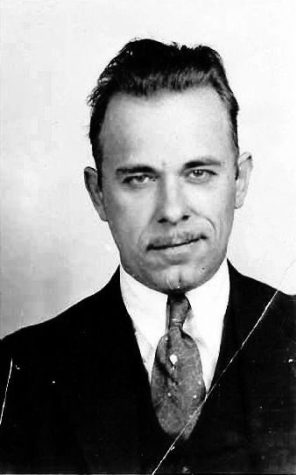 When many crime buffs think of 1920's and 30's gangsters, they think of New York but the Midwest has had its share of notorious gangsters. One of the most infamous was John Herbert Dillinger, a gang leader during The Great Depression. He was born on June 22, 1903, in Indianapolis IN, and grew up with one sister named Audrey Dillinger who died in 1987, 53 years after his own death. Over his short life, Dillinger had two wives, the first being Beryl Hovious to whom he was married from 1924-1929, but ended in divorce. Four years later from 1933-1934, Dillinger was married to Evelyn (Billie) Frechette and after Dillinger's death, Evelyn was eventually imprisoned for two years for harboring criminals.
Dillinger's period of infamy started on May 10th, 1933 when he was paroled from prison after his eight and a half year sentence. Almost immediately following his prison release he robbed a bank in Bluffton, Ohio. After Dayton police arrested him for that robbery, he awaited trial in Lima, Ohio on September 22nd.  Then on October 12th, Dillinger had three recent escapees come to where he was incarcerated and try to bail him out but when that didn't work, those three prisoners shot the guard and took off with Dillinger. He and his gang robbed several banks and stole the police arsenals in Auburn, Indiana, and Peru, Indiana, including several machine guns, rifles, and revolvers as well as a massive quantity of ammunition with multiple bulletproof vests. 
On December 14th, 1933, a member of the Dillinger Gang ,John Hamilton, shot and killed a police detective in Chicago. One month later, the Dillinger Gang killed another officer in the First National Bank of East Chicago, Indiana. They then traveled down to Florida and then to Arizona where on January 23rd, 1934 a fire started in their hotel room. Even though they were hiding under fake names, firemen still recognized them and local police arrested Dillinger, Harry Pierpont, and others. Police also confiscated all their weapons as well as more than $25,000 in cash from the East Chicago robbing's. 
Dillinger was then sent to the Crown Point county jail in Indiana to await his trial for the robbery and murder of a police officer from the East Chicago robbery. Police and FBI claimed the jail was "escape-proof" but on March 3, 1934, Dillinger had made what was later said to be a wooden gun and forced officers to let him free, then took their guns, locked away the guards and fled.
Dillinger was accused of robbing a total of 24 banks and 4 police stations. While he escaped prison twice he had quite the list of criminal charges consisting of bank robbery, murder, assault, assault of an officer, and grand theft auto. 
On March 6, 1934, Dillinger and his gang arrived in South Dakota with the intent of robbing the Security National Bank in Sioux Falls, SD. Sioux Falls was your average town in the Midwest at the time. Dillinger and his gang did successfully rob the Security National Bank for a total of $50,000 U.S dollars. In 2022, that would be around $1,105,507.46 U.S currency.
Dillinger later went on to Chicago to see Clark Gable in "Manhattan Melodrama" at the Biograph Theater where outside he would meet the end of his crime spree. Around 10:30 p.m. Dillinger with two female occupants walked into and after being asked to leave walked out of the theater. As they turned the corner to leave the police gave the signal to close in on Dillinger. By instinct, he realized what was happening and drew his weapon dashing into the alley. Of the three FBI officers, five shots were fired at Dillinger with three making contact. Dillinger dropped face down onto the pavement and was pronounced dead at the Alexian Brothers Hospital at 10:50 p.m. July 22, 1934. Rumor says that his last words were "You got me" but the FBI reported that there were no last words.