Shaking up Disney: A Profile of Dana Terrace
POSTED December 21, 2022
Would you enjoy seeing a show featuring griffins with spider breath? What about a monster who eats his own eyeballs? Maybe skin-eating fairies? How about witches who hide out in an owl house in the middle of the woods? All of those creepy images belong to Disney creator Dana Terrace on her popular show The Owl House. What events in her life lead her to become a creator? And what makes her more unique than other Disney creators?
Dana Terrace was born on December 8, 1990, in Hamden, Connecticut. Dana was raised by two supportive parents: Thomas Terrace and Dianne Terrace. Throughout her childhood, she watched shows that would inspire her to become an artist. She would watch anime and shows like Pokémon and Powerpuff Girls. She would draw these characters in her sketchbook. Her parents encouraged her to pursue her love of drawing and animating. But even with her brilliant artistic skills, she was an outcast. 
"When I was a kid I didn't know how to communicate with other people. People thought I was kind of a freak because one of my favorite things to do was find roadkill and learn how to draw by drawing that kind of stuff. And people will be like, 'What the h*ll is wrong with you?' And I'm just like, 'I'm just trying to learn how to draw.'" Dana explained in an interview with Collider. Dana has had a very unique personality since she was little, and would get shunned by others in her life. 
An even bigger influence on Dana's life than her roadkill sketching was the death of her father. On November 28, 2002, when Dana was only 11 years old, her 52-year-old father died in a car crash. Before his death, he had given Dana the game Pokémon Red, which would be one of the inspirations for her future show. 
After middle school, Dana attended and graduated from an art high school in New Haven, Connecticut called Cooperative Arts and Humanities. She then moved to New York City to attend the School of Visual Arts. Throughout her time at that school, she directed a short film and learned different styles and techniques to draw and animate. She graduated with a diploma in the spring of 2013.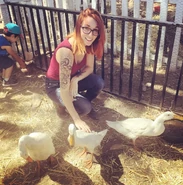 The show Gravity Falls was the first Disney Channel show Dana ever got to work on. "Someone on the crew found my Tumblr and liked my drawings enough to email me! I did the test and they immediately wanted to bring me on as a revisionist. At the same time I was waiting to hear back from Steven Universe for a position. I was leaning more towards SU, I was a fan of Rebecca Sugar ever since I saw her films at SVA (School of Visual Arts), but they took too long to reply and I needed a job so I half-heartedly accepted Gravity Falls' offer. I think it turned out alright." Dana said, telling Fülle Circle Magazine about how she started work for Disney as a storyboard artist. She met many of the people through Gravity Falls who would later help her create her own show.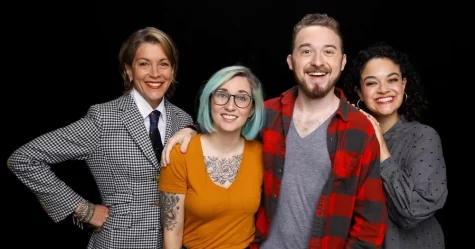 After finishing up with Gravity Falls, Dana started looking for more work within Disney. The Line Producer for the rebooted show DuckTales reached out to Dana and offered her a boarding position. Dana wanted more than that, so she took a chance and asked if they had a director position open, which they did. Dana was the director of the DuckTales reboot for the first season in 2017.
Although Dana was hard at work doing the DuckTales reboot and other small projects, she was creating something else in her free time: The Owl House. "I think it was near the end of 2016, I was 25 when I first came up with the characters and the baseline idea before I pitched it anywhere." Dana shared with Collider. In fact, the biggest reason that she went with her idea was out of spite. 
"…and I pitched that to a friend and they were like, 'That. No one wants to see a story about a young girl going on adventures or an old woman dealing with some.' And I was just like 'F- you!' So The Owl House. That's literally it." Dana told her fans during an Instagram Live. And finally, after working on it for three years, in January 2020, the first episode of The Owl House aired on Disney Channel.
Dana Terrace poured her heart and soul into The Owl House, so naturally, she had to put some of herself and her experiences into the story. She based the main character, Luz Noceda, on herself. The character Luz was an outcast as a child, always doing and saying things that to others sounded weird and creepy. She loves anime, action, and fantasy books. She draws a lot in her free time. She isn't very good at reading others and what their feelings are. She is also very humorous and makes lots of jokes. All of these traits that describe the character Luz also describe its creator, Dana.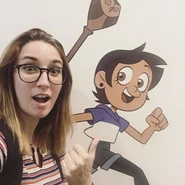 Not only that, but Dana also wrote Luz as bisexual, just like Dana; although it took Dana some time before she fully came to terms with her own sexuality. "I'm bi! I want to write a bi character, d*mmit!" Dana tweeted, regarding her bisexuality and Disney's initial hesitation to let her write in queer characters. Eventually, Dana got support to put queer characters and relationships into the show.
Since we've seen Dana in the role of Disney animator, she has only had one publicly known relationship. She started dating Alex Hirsch, director of Gravity Falls, in 2015. Although in 2022, due to one of her drawings on Tumblr, fans speculated that they broke up. It is unknown if Dana has had any other partners.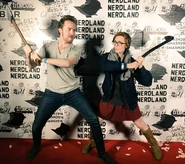 Currently, Dana is working on finishing up The Owl House's final season. The show has been canceled due to not fitting the Disney brand. Many fans are speculating that Dana might be writing a reboot, focusing more on the adult characters in the show. But there hasn't been anything confirmed yet.
For the past ten years since Dana Terrace has been a part of Disney, she has helped to create three amazing kid shows. The Owl House is notable for being the first Disney show ever to have openly queer characters and couples. The show is also one of Disney's most popular shows currently airing on the Disney Channel. Dana Terrace is a remarkable creator and many fans can't wait to see what she creates next.
Interesting facts:
She voices multiple characters in her show

The Owl House

, including Tinella Nosa, Severine, and even does King's "squeak of rage" because the voice actor of King can't make his voice squeal that high.

She has equinophobia (fear of horses).

She has a white cat named Ghost, who appears in

The Owl House

.

Tinella Nosa (Tiny Nose) is a self caricature.

She is the sixth woman to create an original show for Disney Television Animation.

She never watched the original

DuckTales

before directing season one of the reboot.

Her favorite animated movie is

Princess Mononoke

; she always cries when she watches it.

She has won two GLAAD Media Awards, a Daytime Emmys award, and a Peabody award. All of these were awarded for

The Owl House

.
Credit:
Photos: