Amelia Earhart
POSTED January 5, 2023
Becoming the first woman to fly solo across the Atlantic, North America, and back, as well as publishing two books are just some of Amelia Earhart's great accomplishments. Throughout her career, Amelia Earhart broke many records, worked quite a few jobs, and created a name for herself. 
Early Life
Amelia Mary Earhart was born in Atchison Kansas July 24th, 1897, to Amy and Edwin Earhart. Amelia's father Edwin was a railroad lawyer and her mother had come from a wealthy family. Growing up, she and her sister Muriel were allowed by their parents to participate in activities that were deemed boy's activities at the time, and as a product of this, they were very adventurous and outdoorsy children. Because of their father's job the family had to move often. Amelia lived in Kansas City, Des Moines, Saint Paul, and Chicago. After their grandparents died their father Edwin struggled with alcoholism, lost his job, and went to a sanitorium for a month to recover. After being unable to get better, Amy took the girls and moved to Chicago. 
Schooling
After moving so many times, Amelia ended up attending six high schools in four years. Amelia finished her education at Hyde Park High School in Chicago, 1916, and went to Ogontz Finishing School near Philadelphia shortly after. She dropped out of college in 1918 her junior year to become a nurse's aide at a military hospital in Toronto during World War I. After the war in the fall of 1919, she entered pre-med at Columbia University, but left after one year because medicine didn't interest her very much. She left and went to live with her parents in Los Angeles where they reunited. 
Interest in Flying
The first time she saw an airplane was at a state fair in Iowa, oddly enough she was very unimpressed by it. While she worked as a nurse's aide Amelia went to a flying exposition with a friend. At the exposition, a stunt pilot dived at her and her friend but Amelia didn't move, later she even called it a personal awakening. After moving to Los Angeles with her parents, Amelia attended an air show in Long Beach with her father Edwin. She got to go on her first plane ride with Frank Hawk and even said, "By the time I had gotten two or three hundred feet off the ground, I knew I had to fly." By 1921 she had her first flying lesson with a pilot named Neta Snook. To pay for these lessons she worked as a filing clerk at a telephone company in Los Angeles. And, later that year Amelia saved up enough money to buy her first plane with the help of Amy, her mother. She called the plane The Canary because of its yellow color.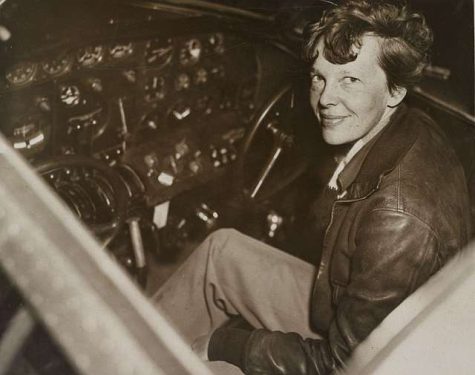 Achievements
Amelia Earhart's achievements include being the first woman passenger on a transatlantic flight, publishing two books about flying, becoming president of the Ninety-Nines Inc. a women's aviation organization, as well as setting the women's world flying speed record in 1930 at 181.18 mph. In 1931 after having rejected his proposal six times Amelia married George Palmer Putman. She rejected him all those times because she didn't like the institution of marriage and would always say their marriage was a "partnership." In 1932 she became the first woman to fly solo across the Atlantic Ocean; because of this, she earned the Flying Cross from congress as well as the Cross of Knight of the Legion of Honor from the French government, and finally, the gold medal of the National Geographic Society making her the first woman to receive it. Later, in 1932, she became the first woman to fly across North America and back. Amelia visited the White House in 1933 and became friends with Eleanor Roosevelt who was the First Lady at the time. In that same year, she flew across North America and back, breaking her record with a faster time. For the third year in a row, she earned the Harmon Trophy for outstanding airwoman in 1934. In 1935 she was the first person to fly solo from Honolulu to Oakland California, she also flew from Los Angeles to Mexico City and from Mexico City to New York. During this time when she was not flying Amelia worked as a women's counselor at Purdue University. 
Final Flight
Flying around the world was her last flight in 1937, she tried it twice but the first time her plane ground-looped and they had to head back. On her second attempt, they lost radio contact and disappeared over the Pacific Ocean on July 2nd. A search party was sent out but they couldn't find anything and finally, on January 5th, 1939 Amelia Earhart was declared legally dead in a Los Angeles court. Even after that many rumors, claims, and theories were spread about what people thought really happened to her Amelia Earhart truly was an American legend. 
https://www.pbs.org/wgbh/americanexperience/features/earhart-timeline/ 
https://www.history.com/topics/exploration/amelia-earhart 
https://jenikirbyhistory.getarchive.net/amp/media/amelia-earhart-1937-6889a3 
https://nara.getarchive.net/media/amelia-earhart-prior-to-last-takeoff-b181aa