Roosevelt JV softball team wins 2018 State Tournament
Hang on for a minute...we're trying to find some more stories you might like.
With the pressure to revive their former second place spot to first, Roosevelt High School's JV Softball team went undefeated 4-0 at state, beating out Yankton, Brandon and Lincoln high schools for the first place title.
Last weekend, September 28-29, 2018, was the JV softball state tournament at Sherman Park. Roosevelt's first game was against Yankton, and they pulled out a win, having a final score of 4-3, with a miraculous play at home plate to stop Yankton from tying it up. You can thank right fielder, Jess Mongar and catcher, Jordyn Blogg, for that one!
Later that day, Roosevelt took on Brandon Valley, and won, with an ending score of 4-2. The win wasn't much of a surprise, as they had beaten them before, but still gratifying, nonetheless. Because of the win, Roosevelt didn't have another game until the next day, Saturday, September 29, the day they won it all…
Roosevelt vs. Lincoln started at 11 that morning, and both teams were ready to win.   With a rivalry between the two teams boiling up and ready to be settled, the game was on. Within the first two innings, Roosevelt was losing 6-1. The dugout and stands were quiet. Nobody was cheering. Nobody was smiling. Then, Assistant Coach Abby Schultz stepped in. "Ladies, we need to be cheering. Your teammates need you. Let's go! Want to win." That's what started the road to recovery for Roosevelt. By the end of the game, Roosevelt fought for their win 11-6. What a comeback! When asked about the game, Head Coach Mark Mueller reports, "Intense."
With the win against Lincoln sending Roosevelt directly into the championship, Roosevelt took on Brandon for a second time, and what would be the last time this season. After a quick game stopped before the time limit, Roosevelt was renamed as the JV State Champs of 2018! It was "a weekend that most girls will remember for the rest of their lives. All the pieces of the puzzle were put together in the right spot," Mueller says. "Our hard work for two and a half months payed off."
About the Writer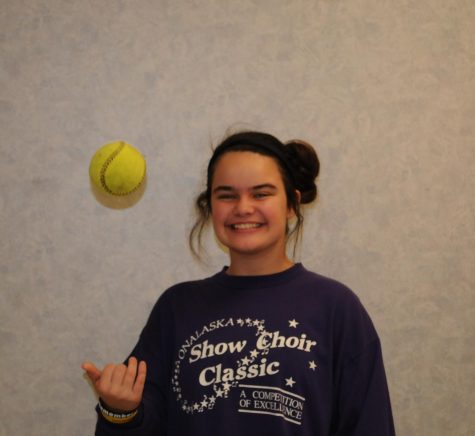 Elly Mulhair, Writer
Elly Mulhair goes to Roosevelt High School and enjoys softball, show choir and playing drums, ukulele and piano. She is a 14-year-old freshman and her...