Augustana hosts 2019 Boe Forum
"I think journalism gets measured by the quality of information it presents, not the drama or the pyrotechnics associated with us." — Bob Woodward
On March 19, 2019 Augustana University held its annual Boe Forum on Public Affairs, featuring iconic journalists Bob Woodward and Carl Bernstein.
2019 marks 47 years since America was exposed to perhaps the greatest and most important news story in American history: the Watergate Scandal. Broken by now-legendary reporters, Woodward and Bernstein, this scandal forced President Nixon to resign due to the uncovering of his illegal actions. The intriguing causes and powerful effects of the investigative story that turned our nation against our leader were outlined in interesting and elaborate extent at the Boe Forum.
Prior to the main event, Augustana University held a student press conference. Opening speeches to the student interview were given by Professors of English and Journalism, Dr. Janet Blank-Libra and Dr. Jeffrey Miller, as well as Augustana's President, Stephanie Herseth Sandlin.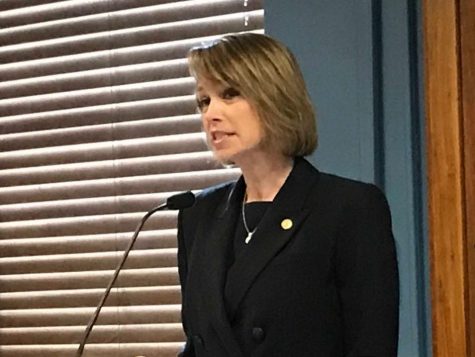 After being introduced, Woodward and Bernstein actively engaged the audience for 45 minutes as they answered multifarious questions from the students present.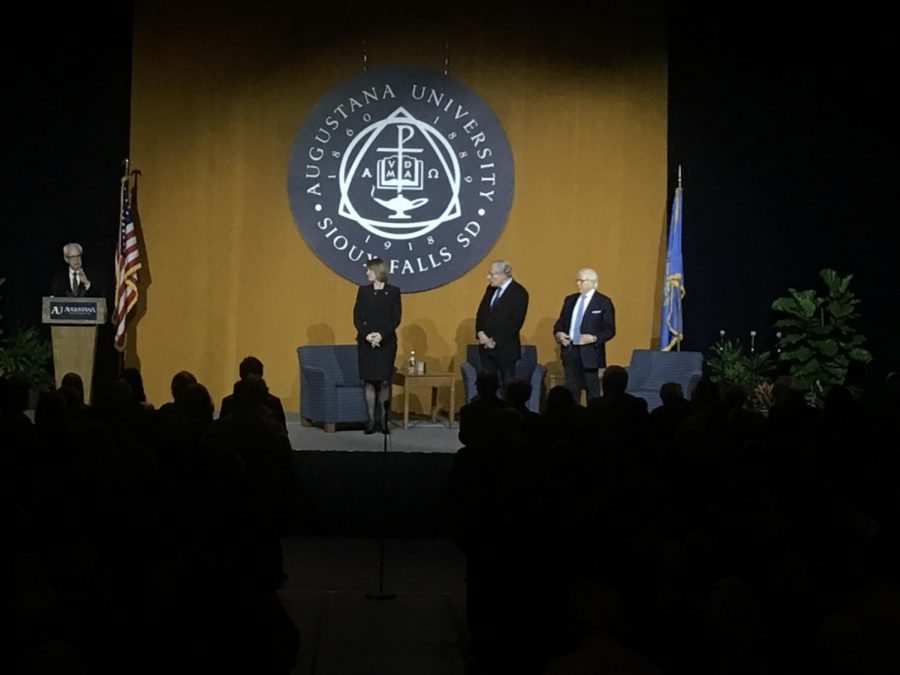 Three hours later, nearly 4,000 people were seated in the Augustana University Elmen Center for the main event. Herseth Sandlin acted as emcee on the main stage for the duration of the event (from 7:30 p.m. to 9:00 p.m.). For the majority of the event, Woodward and Bernstein shared their wisdom and life experiences in the journalistic field. Near the end of the forum, two Augustana students, Jacob Knutson and Kaatje Weiland, each had the opportunity to ask Woodward and Bernstein two questions. In addition, a few of the audience members were permitted to ask the duo a question.
The Nationalist was fortunate enough to have some journalists in the crowd–here are their perspectives on the event.
Daniel:
The Boe Forum has developed a prestigious reputation for being one of the most influential conferences; in the past, it has summoned the likes of Al Gore, Barbara Bush and Mikhail Gorbachev to the city of Sioux Falls to discuss public affairs. This year proved no less of a significant, eye-opening experience to our city. Woodward and Bernstein symbolize the historic and outstandingly strong power of not only journalism and the spread of news, but also the power of the first amendment and the honest urgency of its presence in politics. Woodward and Bernstein decided to be the faces of the good side on THE biggest political scandal in our Nation's history. They are the true embodiment of those who "stick it to the man" and of the few brave souls who ward off death threats and "bigwig" intimidation to get the truth and ONLY the truth: no political bias, no "watered down" details, no left-out elements, just cold hard facts.
As for the Boe Forum, Woodward and Bernstein instilled a surprisingly well-done mixture of humor into a mostly serious message to the next generation of not only journalists, but also those with strong voices, to repel against the bigger fish, to chase the bigger story, to hold those with power accountable for their actions and to never give up. They stressed the importance of journalism and the unfortunate turn of the public towards getting news from increasingly popular social media rather than local news channels or newspapers.
But could we expect anything less than a masterful speech from the godfathers of reporting?
Kaitlin:
I've always pictured a journalist as someone who sits at a desk for the majority of the day and occasionally does an interview. Woodward and Bernstein, however, seemed to have a much different opinion.
One of the goals of journalism, Bernstein noted, is to be able to tell a human story. I interpreted this as meaning that you want to be able to depict characters as real people, and perhaps then your audience can connect to them. To learn the most about a person or event though, you can't just use documents and websites. The duo spoke of three types of sources: humans, documents, and personal observations.
I guess that I've been stuck in the "Essay for your typical English Class" routine of googling all the information I thought that I needed. Through my high school career I haven't been shoved into having my own experiences to write about a topic or using interviews as my main sources. This new perspective of living in your article and having it reflect your own experiences really spoke to me.
Bernstein emphasized that if you don't have personal observations, you're cheating not only yourself, but also anyone who may read your article. Being able to experience for yourself what you're writing about is crucial to being able to depict for others what you're trying to convey. If you yourself don't know what a place looks like, how can you tell your readers? A quick rewrite of someone else's review isn't going to have the same effect on a person: first hand stories are always better than second hand ones.
Lexie:
As a young journalist who has dabbled in investigative reporting, meeting Woodward and Bernstein provided me with knowledge that I can use throughout my future career. However, the duo gave their opinions on multifarious topics that can be useful to any American citizen concerned with the state of the country, not explicitly journalists. This can be seen in the way that they contrasted the past, present and future of journalism.
Throughout the night, Woodward and Bernstein frequently referenced the "Bernstein method" of reporting; this method consisted of knocking on people's doors at night without an appointment. (Annoying? Yes. Effective? Absolutely.) A constant motif in all of their responses to questions regarding the past was an emphasis on human interaction. Reporting, to be done properly, needs to be rooted in personal observations and intense face-to-face conversations, according to Woodward.
Furthermore, their conversation explored the current state of journalism. Bernstein showed no hesitation in blatantly declaring, "The situation in regards to local news organizations is disastrous." He continued to emphasize the dire situation of local news organizations' staffs; their staffs keep getting smaller and smaller while grasping tightly onto the "lead and bleed" strategy for dear life. As Woodwood masterfully illustratrated, breaking news nowadays is as simple as Breaking news…a cat is stuck in a tree! and Breaking news…the cat is out of the tree! a few hours later. "It's a tragedy," Woodward said.
Although we have experienced a few hiccups in the world of journalism since Woodward and Bernstein's days as up-and-coming reporters, they seem confident that the career can find the right track once again. You're never going to get the truth," Bernstein said. "You have to make sure you've been fair." Woodward agreed with Bernstein about the utmost importance of being candid by saying that it's the journalist's job to understand the case even if they don't agree. Journalists cannot allow themselves to be crippled by their emotional involvement, he urged.
Convinced that the secret government is hiding something, Woodward reiterated, "We have to make our product [honest news] better." However, like Bernstein says, "We're not doctors for the problems of a culture or society." The future of journalism could swing either way right now, but it is within the power of reporters to ensure that it swings towards being fair and honest.
As such, the Boe Forum allowed the community of Sioux Falls to take a brief and informative look into the behind-the-scenes work of investigative reporting and to understand the meaning of journalism a bit better. Personally, I am grateful for the contributions both Woodward and Bernstein have made to society, and I am glad that I got the opportunity to learn from them.